In a Nutshell
Better.com is an online resource for finding and originating mortgage loans. It has educational resources and non-commissioned staff, no lender fees and a variety of loan options available.
pros
No origination or lender fees
Many different fixed and variable rate loans
Fast approval process
cons
Closing costs can be quite high
No VA, or USDA loans
No HELOC or Texas cash-out mortgage
Better.com at a Glance
| | |
| --- | --- |
| Loan Types | Home purchase, refinance |
| Featured Loans | FHA, fixed, adjustable, conventional and jumbo |
| Repayment Terms | From 4.250% APR on 15-year loans |
| Down Payment | 3-5% minimums |
| Credit Score | 580+ |
| Best for | No-cost mortgages with great rates |
| Direct Lender or Marketplace | Direct lender |
Better.com Visit Better.com
Overview
Better.com is an entirely digital mortgage platform that prides itself on helping homebuyers and homeowners find purchase or refinance loan based on your:
Goals

Affordability

Transparency
The online application is simple and can be completed in minutes. Once a borrower completes an application, they have access to a suite of resources designed to help them pick the right loan at competitive price. These tools include
A personalized rate tool

A dedicated non-commissioned mortgage expert

A customized loan estimate

An automatic discount finder

Expert-written content designed to help borrowers navigate the process
Plus, all rates at Better.com are backed by the Better Price Guarantee, which promises that Better.com won't just match a competing price, but beat it by $1,000.
Better.com offers several loan options to meet borrowers diverse needs and interests. Additionally, Better.com customers can choose from a range of fixed-rate and adjustable rate loan terms with no origination fees and request a rate lock 24/7.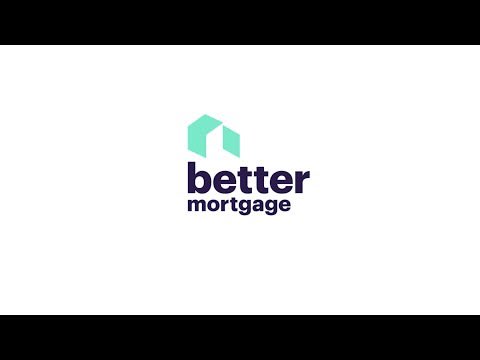 Best for?
Savings. Better.com has automated the mortgage process, and in doing so, they have reduced the cost to originate.
Why is that cool?
Better.com passes savings onto the customer and invests in additional resources to support the customer even before you lock your loan. The bottom line is that Better.com customers are able to save money on your mortgage and pick the right financing option for you. Better.com has an intuitive online platform, complemented by non commissioned staff that guides customers through the process starting with how much house they can afford or how much they can save, all the way through to close, jargon-free, with airtight certainty and the best rate possible.
Loan Features
Better.com offers loans on primary, secondary, and investment residences. There are good range of mortgage loans for both purchase and refinance, with terms from 15 to 30 years for fixed rate loans and 5/1, 7/1 or 10/1 variable-rate loans. Better.com doesn't charge any origination or lender fees and no commission, and there are no pre-payment penalties on any Better.com mortgages. Better.com also offers the option of locking in your rate when it suits you and connects you with a single loan officer once you've finished the pre-approval process.
No origination fees or lender fees

No commission

Wide range of loan terms and rate options

Fast response

Dedicated loan officer

Rate lock on demand
The Application Process
The application process at Better.com is entirely online and takes only about 3 minutes for house hunters who are just looking for basic pre-approval, although the website indicates that it takes up to 2 hours if you are shopping for a home and 30 minutes if you've found a specific property to buy. The application for refinancing takes just 3 minutes.
Once you've answered basic questions about your financial situation, home equity, or prospective property, you'll be sent an initial loan estimate and connected with a dedicated loan officer for more in-depth support along the way. Once you've carried out a list of tasks which you'll receive with your loan estimate, you'll be able to request to lock in a rate. Better.com usually closes on a mortgage loan within 3-6 weeks after rate lock, often 10 days faster than the industry average.
Pros and Cons
One of the biggest advantage at Better.com is that the loan approval process is fast. You can complete the application online in 3 minutes, get an initial loan estimate in seconds, and score a complete loan approval within 24 hours. Better.com is able to offer clear terms and rates for each of the 3 fixed-rate and 3 variable-rate mortgage products. Better.com also offers refinancing with the same speed and clarity.
While Better.com does offer FHA loans for greater financial flexibility, they do not offer VA, USDA or other refinancing options like an HELOC or home equity loan, or a Texas cash-out loan.
Loan Terms- The Bare Basics
Better.com offers 3 different fixed-rate mortgages and 3 variable-rate mortgage products. Each mortgage is available as both a regular and a jumbo loan.
Better.com will finance the purchase or refinance most types of residential property, including
Multi-family home

Planned unit development

Condominiums

Second homes

Investment property
You can get an FHA loan, cash-out refinance loan or a standard refinance loan, but no HELOCs or home equity loans and no Texas cash-out loans. Commercial property, construction loans, VA and USDA loans are currently not on offer.
Better.com offers mortgage loans to borrowers with a credit score of 580 and above, and also carries out an appraisal before making a final loan offer. Better.com will carry out a soft credit check before sending your initial loan estimate and a second, hard credit check when you decide to continue with your loan application. Better.com doesn't insist that borrowers use an escrow account, but it does note that usually, escrow account holders get the best rates.
Loan Requirements
In order to take out a loan with Better.com, you'll need:
A credit score of 620 or above

To be age 18 or over

To be a US citizen or permanent resident

To live in 1 of the 35 states where Better operates or Washington, DC

For refinancing, to own an eligible residential property with sufficient equity

To plan to buy a residential property that is not mixed-use, manufactured or modular, a co-op, or a multi-family home of more than 5 units
Repayment Terms
A fixed-rate loans for purchase or refinance from Better.com have terms of 15, 20, or 30 years. Variable-rate loans are on offer in 5/1, 7/1, and 10/1. Buyers who want a mortgage with a shorter term might find this frustrating, although since all loans at Better.com have no prepayment penalties, you can pay the loan back sooner if you're able to.
Average closing costs are:
$3,598 in third-party fees for a purchase loan

$1,824 in third-party fees for a refinance loan
Help & Support
Better.com offers a single, dedicated loan officer to every applicant to help you through the loan process. In general, you can get in touch with Better.com customer support by email at hello@better.com, via phone, or schedule a convenient time for a representative to call you back using the online form. Both your loan officer and general customer support are available from 9am to 9pm ET Monday-Thursday, 9am to 6pm ET on Friday, 12pm to 4pm ET on Saturdays, and 12pm to 6pm ET on Sundays.
Better.com offers plenty of information on the website with an easy to find and easy to navigate FAQ section and lots of educational resources.
Summary
In short, Better.com is a fast mortgage lender with a useful range of purchase and refinance mortgage loans for residential properties. The speedy loan approval process, dedicated loan officer, and zero origination and lender fees make it an attractive choice for homeowners looking to refinance and homebuyers looking to purchase a first or second home. Customer support is a core focus of the business and customers can reach a licensed loan officer 7 days a week. The website is easy to use and provides clear information.
Better.com F.A.Q.
Will Better.com service my mortgage?
No, once your loan is funded, Better transfers your loan to an investor. The quality investor will provide you with the right loan type and servicing for your financial situation. You will still have your Better.com loan officer to assist you with any questions or concerns.
Does Better.com offer commercial or construction loans?
No, there are no commercial construction loans at this time.
What is the Better Price Guarantee?
Better promises to beat any competitor's quote by no less than $1000 or it will pay you $1000.
How does Better.com decide my mortgage rate?
Your rate quotes are determined based on a range of factors, such as the property you are interested in, your credit history, and market conditions, insuring the best possible rates and choices for you from a variety of investors.
Physical Address
Better Mortgage Corporation
459 Broadway FL 5,
New York, NY 10013
Better.com Visit Better.com